We facilitated an interactive session with Digital Leaders Virtual on the 8th of June. We presented our approach to Transformation Design and asked our delegates questions about their workplace experiences and preferences.
We wanted to help them explore how they might design their future workplaces as we begin to transition from lockdown.
This post summarises our approach and key delegate insights. 
We believe a safe and trusting environment is the foundation that ensures sustainable change within organisations and the wider world. We also believe we all have the ability to creatively define solutions especially when we work and collaborate together. So we developed a framework to support you to create an empathetic agile problem-solving culture in your organisation, based on these foundational beliefs.
Realising that taking a siloed approach is not effective, we blended our experiences together to support people with mindset shifts and new behaviours — from fear and failure to flourishing and fabulousness — moving away from a linear, monochromatic paradigm to a colourful space of innovation and sustainability. In today's fast-changing world, the ability to adapt and 'bounce forward', is critical to success. 
Our three-step approach for Transformation Design
Mirror, Model, Momentum: our three-step model for Transformation Design combines the psychology of change, with design thinking and agile culture:
Mirror is about listening to understand – how can you forge the future state without understanding where people are now?
Modelling is creating a shared vision and moving into action with new behaviours and prototypes
Momentum is about gaining commitment and accelerating progress with an agile culture – to create flow
We use this model, supported by our field-proven toolset, to accelerate sustainable change inside organisations. It enables you to lead human-driven tech-enabled sustainable transformation. 
Hold up the mirror: listen to understand
During our session, we wanted to give delegates a flavour of the first stage of our approach, to get a feel for it, so they could really understand it. We wanted to walk our talk, show not tell.
We gathered real-time feedback on delegates' feelings about work, by asking a series of questions during the event including what they had started doing in the workplace since lockdown, what they stopped doing and what they missed.
We also captured feelings about what work may look like in the future. As seen below, they feel a mix of nervousness and excitement, uncertainty and optimism.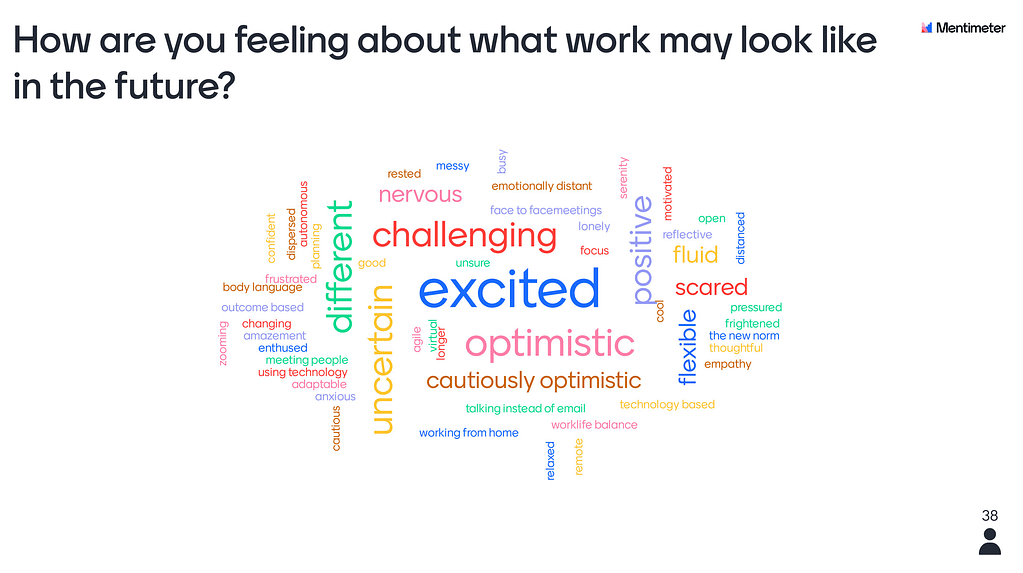 By really understanding how people are feeling, and the impact of these emotions, leaders can provide relevant help and information. Support minimises negative feelings which can undermine effective change. Many transformation programmes fail because people are not sufficiently informed and engaged.
What behaviours will help you flourish?
We also asked our delegates what behaviours and practices will help them flourish. The answers to this question can help inform a vision for the future.
Our delegates identified these flourishing factors:
empowered well-trained managers
less time working online / fewer meetings
being super well-organised
trust and care
less time travelling and being present in an office
less rigid hierarchical working – lots of employee voice
working to outcomes
mindfulness and self-care
agility
Similar activities can also be conducted to hear the voice of your customers. By tapping into the wisdom of your employees, customers and communities, you can create a future workplace experience that meets and exceeds everyone's needs.
Another question we explored in our workshop was the extent to which delegates felt they had influence in recasting their workplace. This question is important as it helps us assess cognitive dissonance – the gap between how we would like things to be and how they are.
Create an empathetic agile problem-solving culture
One sign of healthy well-being in the workplace is a low level of cognitive dissonance caused by conflicting beliefs, attitudes and behaviours. Effective leaders provide an environment that minimises cognitive dissonance. They build momentum and gain commitment to change through involvement and inclusion.
Our three-step model cultivates a leadership mindset that actively engages employees and customers to ensure transformation is human-driven with technology playing a vital role, as an enabler.
In closing, although recent events have been extremely challenging and unsettling, they can also be a catalyst for positive social and organisational change. We believe now is the time to create a safe and trusting environment. In the words of Tracy Chapman (1988), 'if not now, then when?' 
Now is the time to pause, reflect and reset. The good news is a resilient culture can be cultivated, and we are here to support you. By embracing change, you can reassess your purpose, priorities and ensure your peoples' needs are front and centre.
Start your human-driven transformation journey now
Want to move from fear to fabulous, and thrive in spite of adversity and uncertainty?
Explore how a resilent workplace workshop or leadership coaching session can offer real benefits to you and organisational performance. Send us a message or book a call time directly using the green chatbox.