Ever fancied a career in design?
The OECD has identified Design Thinking as a key skill for the 21st Century. It is an important skill set aspiring leaders would be savvy to gain.
A career in design has many routes in. I shared my  story of how I became a design leader (of sorts) with Nomensa at Interact Amsterdam, a week-long Virtual Festival, held in November 2020.  Facilitated by Hannah Tempest of Nomensa, my fellow panelists were Lisa Anderson of Booking.com and Gabrielle Lovering of Backbase. It was a fun event with some great questions and we received such warm feedback.
Below are my answers to the questions asked. You can watch the event recording here.
What was your path into design leadership/how did you make the jump from design to design leader?
For me it was not a direct pathway. I don't come from a 'classic' graphic design background, but rather a social change background. When I was doing my Masters degree in Canada many moons ago, I explored different methodologies for social change. I came across a body of work that can be broadly classified as 'participatory design'  (from Scandinavia)  // 'participatory action research' (from Latin America). These 'co-creation' methodologies entailed involving stakeholders or 'beneficiaries' in understanding problems and designing fit-for-purpose solutions that deliver a positive social impact. The philosophy resonated with me and became my calling.
During my Masters in the 90's, I undertook experiments in participatory design with youth in care dealing with the stigma of being in care and LGB (TQ+) students on campus dealing with rampant homophobia — at the time we were using video as a medium for storytelling. Most recently, I used a participatory design approach with students doing a 'high school takeover' while in my role as Chief Digital Officer with Lambeth Council.
Instead of letting them job shadow me, we invited a group of visiting students to design solutions to problems they identified.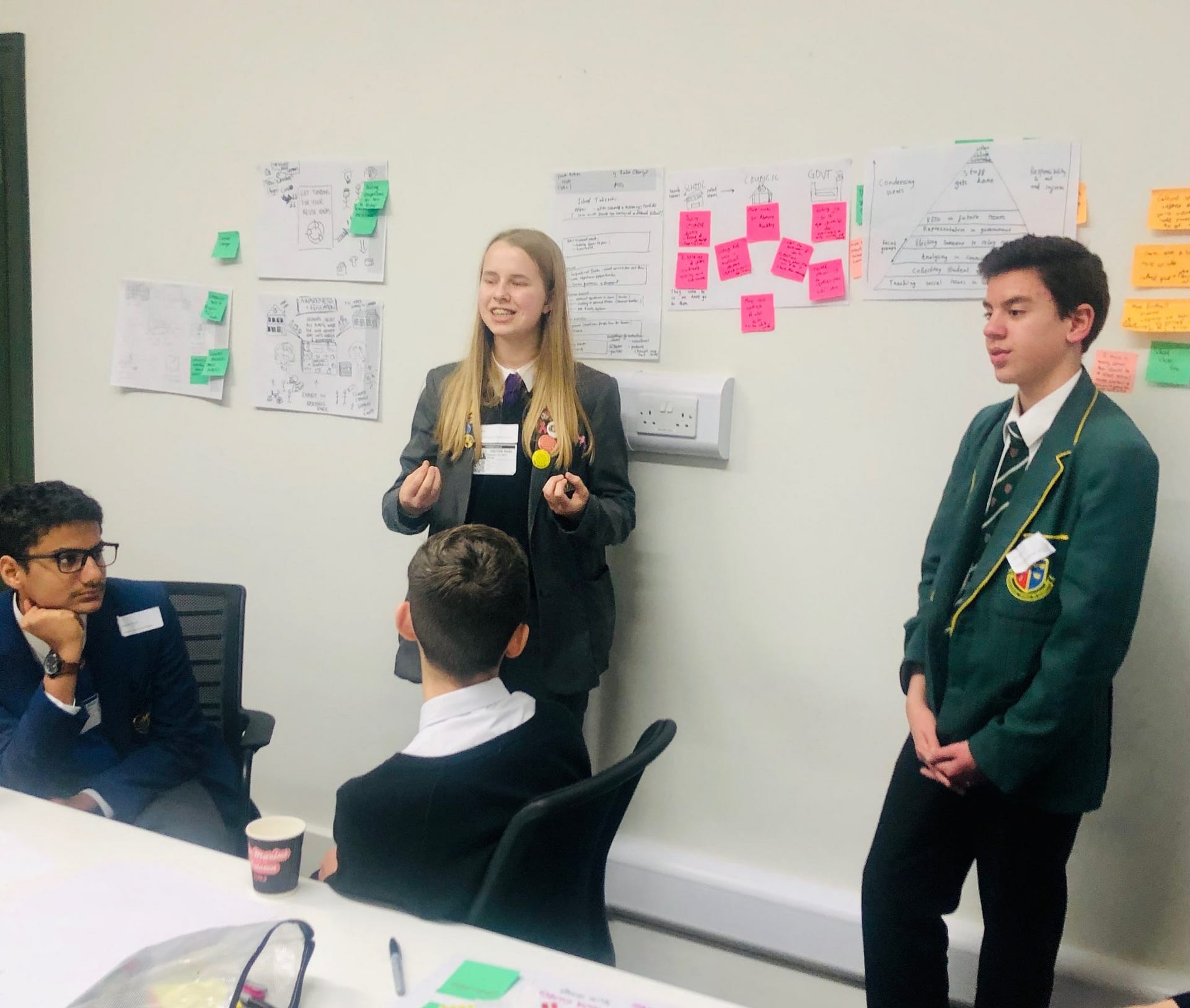 We were so impressed with the ideas they sketched out in less than 2 hours and the passion with which they presented them. Truly inspiring. Even the shyest amongst them presented with confidence.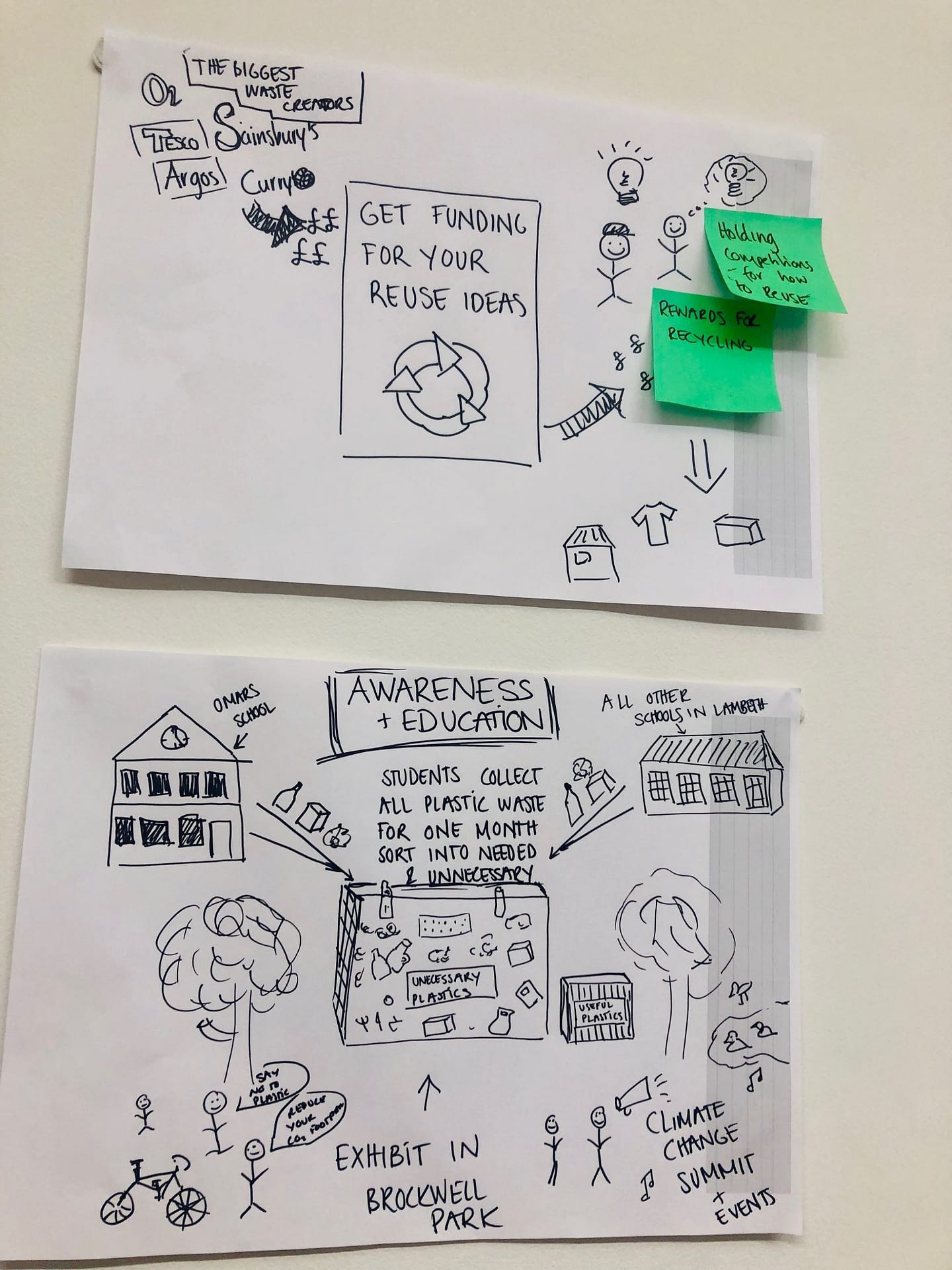 In the mid-nineties, when the internet was rising up, I switched my focus to it
I became immersed in the world of 'human centred design' for interfaces,  information needs and product innovation. As a digital strategist I worked closely with UX and digital designers to build some of the first websites here in the UK.
With Nesta Futurelab, I gained experience working in educational product design on cutting-edge mobile apps, wearables and haptics.
Roll on 20 years, I am now proud to be called a design champion, perhaps even a leader
I use 'design thinking' to improve customer experience across all channels and, crucially, to give people a voice. I also use it as a leadership and organisational development tool.
As I've risen through the ranks, now with my own consultancy business, I champion and model the use of design thinking with business leaders encouraging them to use it to solve complex organisational problems and create a culture of innovation. The importance having an agile innovative culture has been underscored by our current situation where many organisations have had to adapt and pivot in record time.
As a Fellowship Councillor with theRSA.org, I recently conceived and launched a participatory design event exploring digital tools for change-makers — a topic of great importance to the RSA Fellowship of +30,000.
Taking on interim #CDO roles is another endeavour which I enjoy, as I get to directly manage design teams, helping them become fully integrated by introducing and embedding new 'human-centric ways of working'.
What skillset does a good design leader need?
In addition to great design skills, great leadership skills are also needed.
These leadership skills for me include empathy, authenticity, facilitation, empowerment, listening, and providing support especially during times of turbulence and change.
Design leaders also need the ability to have courageous conversations at pivotal times, e.g. when senior stakeholders go straight to tech solutions without following a user-centred design process. This behaviour does not generally lead to the best possible outcomes.
What are your biggest challenges leading a design team?
Here are a few key challenges :
First, getting people to learn to collaborate with the design team and adopt a process where the structure is horizontal. This task is especially difficult in traditional hierarchies and command and control environments, yet it yields great benefits.
Helping stakeholders outside the design team understand the importance of taking a human-centred design process and not deciding upon technical solutions too soon. How many times have you heard 'we need an app to solve this problem'?
Championing design outside the design department – i.e. inside your organisation and at the most senior levels. Helping the CSuite and other departments understand the value of design – how it can be applied not just for product and service design but to solve complex organisational and social challenges — is a key opportunity. Overcoming the above challenges, will elevate the visibility and contribution of design within any organisation.
What tips would you give to any aspiring designer looking to become a leader?
Be that passionate advocate – tell your design story. Show how it adds value. Get results and share the positive impacts to build momentum and galvanise advocates.
'Working out loud' is a useful technique borrowed from the UK government's Digital Services (GDS) that works really well to help stakeholders understand this value. Share your work. Do show and tells. Invite people to get involved. Invite colleagues and customers to co-create personas and customer journey maps. Those tools and processes  help bring  key design principles to life and help people learn through doing. Up-skilling the organisation and community with design skills helps everyone develop 21st Century Leadership Skills. .
Learn and find ways to have those courageous conversations when needed. There are skills you can learn to have them effecitvely, but it mostly comes down to confidence. Listen to others to understand their perspective, but be clear about explaining the benefits of a human-driven' design approach.
 Strive to create a Centre of Excellence for design to reap many organisational benefits.
What does success look like for a design leader/how do you know you're doing a good job?
Analytics and conversions tell part of the story. 

Qualitative feedback is also important. What do the customers say? Are your designs generating positive comments in social media or complaints?
Winning awards is nice and good for your portfolio, but getting on the radar of top bosses is equally important if design is to reach its full potential inside organisations.
Always go for the stretch option, not what is just easy to achieve.
Is your design work helping to make a positive social or environmental impact?
Consider how your skills can be used to tackle grand challenges like social isolation or climate change. Participate in hackathons or make them happen. Take an ecosystem approach and partner up. We are all interconnected and in it together.
Reading list
Here are some of my favourite design books.
Tim Brown – Change by Design
Hiliary Cottam  — Radical Help
Danger and Opportunity: Crisis and the New Social Economy – Robin Murray
Thanks for making it to the end.
Wishing you all the best on your design leadership journey. Keep going, the world needs you.