Accelerate your business by putting your customers first
Digital and social media has put customers in control. Businesses who put customers first win.
We help businesses evolve to meet 21st Century customer expectations.
Whether you are catching up, keeping up, or wanting to leap ahead, we are here to guide you on your transformation journey.
We will set you up to be innovative and responsive to evolving customer needs.
Show you how better collaboration creates memorable brand experiences your customers will love.
Help you clearly define the role of digital in your organisation.
We will guide you to ensure customer insights always inform brand, campaign, and product design.
We will support you to ensure customer journeys are seamless.
We will have you designing and executing effectively and with agility.
We will help you measure impact using the metrics that matter.
Show you how to interpret data quickly enough to improve your brand experience before you lose customers.
Challenge you to have the greatest impact.
Be a leader in your industry
If you are ready to progress at pace, please get in touch.
We will review your current situation (as is)
We will create a plan for you to progress to your desired state (to be)
We will work with you to make good things work better
Customer focused businesses outperform late adopters
According to research by Rico, productivity gains for agile operations can be significant: between 38–100% for deadlines, 25–80% for productivity leading to increases in
Proven processes
We know what works and what doesn't. We will review your digital strategy, customer journeys and facilitate co-creation activities and design sprints to develop new propositions, products and brand experiences.
We'll get you speeding towards your mission as you develop new in-house capabilities. 
We've worked with many great brands

"Ann supported the DEC team with our early digital transformation programme including an innovative disruption pilot. Ann challenged our thinking and standard approach that led to a new way of working which enabled us to embed digital into our every day work"
"Ann was instrumental in conceiving and launching our company blog, Viewpoint, galvanising key internal stakeholders with a vision of establishing a go-to careers advice forum. Viewpoint has become a fundamental part of our global engagement strategy with clients and candidates."
Start making good things work better
You are, no doubt, doing good things. If you are ready to level up and do great things on the way to becoming extraordinary, please get in touch for an exploratory chat.
We've got a track record delivering outstanding results and a playbook to accelerate your impact trajectory. Led by a former in-house digital leader, we know how to overcome obstacles to optimise your customer experience.
We can help you break down silos between departments, build bridges with trustees and senior management teams, and empower product development and service design teams to do their best work.
SNT news, thoughts & insights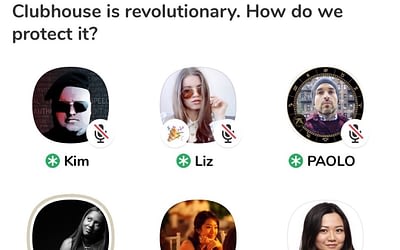 The world's first voice-first social network is part water-cooler, part campfire, part live talk-show. You can find everything from the spiritual...